Contents
CiderFit STRONG: 2x 10 sachets
WaterOut STRONG: 10 sachets
We combined traditional cleansing and slimming methods (apple cider vinegar, artichoke, dandelion) with the latest scientific discoveries. The result? Excess water eliminated, less fat stored, reduced appetite and a leaner figure!
YOUR BODY NEEDS A NEW BEGINNING
The best start to any weight loss programme is a fresh start. It's crucial to cleanse our bodies first. Why? Our body sticks to fat reserves and refuses to let them go if it's overburdened with toxins. That's because fat tissue is the safest place for our body to store toxins.
WaterOut STRONG works against water retention by cleansing the lymphatic system. This flushes those toxins out, along with excess water, providing relief and visible results.
All the while, CiderFit STRONG ensures fat elimination from food, as well as a gentle cleanse of your bowel. It will also keep you fuller, longer, so you'll eat fewer calories! It has no nasty vinegar flavour, so you get all the benefits, with zero drawbacks.
Pure & Slim Bundle is a 2 in 1 solution for those who want to start clean and lose fat on the go!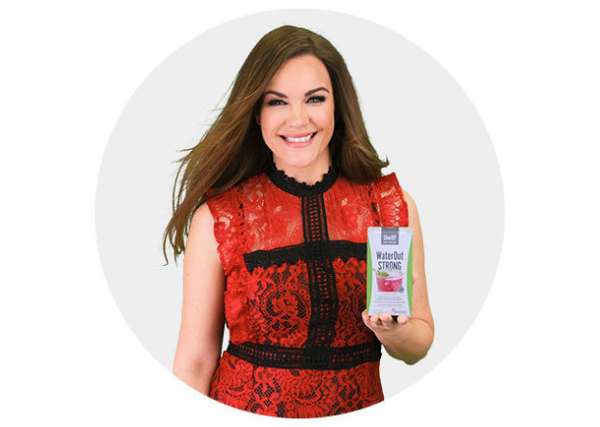 "I couldn't take it anymore! My belly was always swollen and I couldn't fit into my favourite jeans. So I started looking for a solution and discovered WaterOut STRONG. I was sceptical at first, but the effects were really there. Now I can't start my day without WaterOut STRONG."
- Rebeka (38)
WHAT DO THE STUDIES SAY?
The combination of CiderFit STRONG and WaterOut STRONG will:
Offer cleansing and diuretic effects, more specifically:
Up to 3.5 times more excess water and toxins eliminated
Up to 3 times more fat eliminated from food
Up to 60% decrease in bloating and swelling
Up to 275 daily calories reduction
Last but not least: over 1.8 million happy users keep choosing our products to help them achieve a fit and healthy body! For optimal results, use at least 1 month.
Food Supplement
INGREDIENTS:
WaterOut STRONG
Prickly pear fruit powder with 0.05% betalains and 0.03% indicaxanthin, horsetail aerial parts extract, carrier: corn dextrin, sarsaparilla root extract, Java tea leaf extract with 2% potassium, raspberry fruit juice concentrate powder, natural raspberry flavour, acidity regulator: citric acid, artichoke leaf extract with 2-5% cynarin, milk thistle dried fruit extract, dandelion root extract with 3-5% chlorogenic acid and 12% inulin, red whole grape extract with 75% total polyphenols and 50% OPC (content of sulphites >10 mg/kg), anti-caking agent: rice concentrate, sweetener: sucralose.
CiderFit STRONG
chicory inulin with 86% soluble dietary fibres, kiwi fruit powder with 4500 AU of actinidin, burdock root extract, malva flowering top extract, apple cider vinegar powder with 5-6% acetic acid, natural apple flavour, prickly pear cladode juice extract with 40-60% total polysaccharides, sodium L-ascorbate, acidity regulator: citric acid, anti-caking agent: rice concentrate, sweetener: sucralose.
HOW TO USE:
WaterOut STRONG
The recommended daily intake is 1 sachet dissolved in 1 litre of water and drunk throughout the morning.
CiderFit STRONG
The recommended daily intake is 1 sachet (5 g). Dissolve it by stirring vigorously in a glass of water (preferably 250 ml) after meal. Stir thoroughly to dissolve any lumps.
WARNING:
If you are hypersensitive or allergic to any of the product ingredients or use medication, consult your doctor before use. This product is not recommended for pregnant or breastfeeding women.
IMPORTANT:
The recommended daily intake should not be exceeded. Dietary supplements should not be used as a substitute for a varied, balanced diet and a healthy lifestyle, which are important.
STORAGE:
Keep out of the reach of children! Store in a dark, dry place at temperatures below 25°C.
Net weight:
WaterOut STRONG: 70 g
CiderFit STRONG: 2x 50 g
Step 1 - WaterOut STRONG
Take the refreshing raspberry drink with 1 litre of water the morning. It will:
Reduce bloating and swelling
Relieve you of excess water
Diminish appearance of cellulite
Unclog your lymphatic system
Detox your organism
It contains prickly pear, sarsaparilla, horsetail, Java lead, artichoke, red grape, milk thistle and dandelion extracts. Step 2 - CiderFit STRONG
Have a delicious apple flavoured drink after a meal of your choice. It will:
Grab onto fats from food in your gut and carry them out, without them being absorbed
Keep you fuller, longer
Diminish your cravings
Reduce the number of calories eaten in a day
It contains apple cider vinegar, patented kiwifruit extract, chicory, malva, burdock root and prickly pear extracts. We've added vitamin C to keep you feeling energised!
Pure & Slim Bundle