100% PURE FORM OF L-CARNITINE
Carnipure™, the key ingredient in BootBurn ACTIVE XXL, is a patented ingredient of a Swiss biotech company Lonza.
Carnitine is a natural amino acid that helps our bodies produce energy.The Lonza group is the first and only one in the world to successfully patent a way to produce carnitine with 100% pure L-carnitine – without the addition of synthetic D-carnitine.
Carnipure™ is the only L-carnitine in the world in such a pure natural form.
Ultra-effective natural ingredients
But it's not just Carnipure™ that works for you in BootBurn ACTIVE XXL. Our unique proprietary formula also includes guarana extract, complex B (8 vitamins of group B) mate tea and green tea for maximum impact and guaranteed results.
CLINICAL STUDY PROVES 16% HIGHER FAT BURN DURING EXERCISE
With a glass of BootBurn ACTIVE XXL mango drink, you'll burn as many calories during a 20-minute session as you normally would during a 100 minute session.
How? It's simple. BootBurn ACTIVE XXL gently raises your body's internal temperature, creating a thermogenic effect that burns more fat.
Say goodbye to stomach and thigh fat!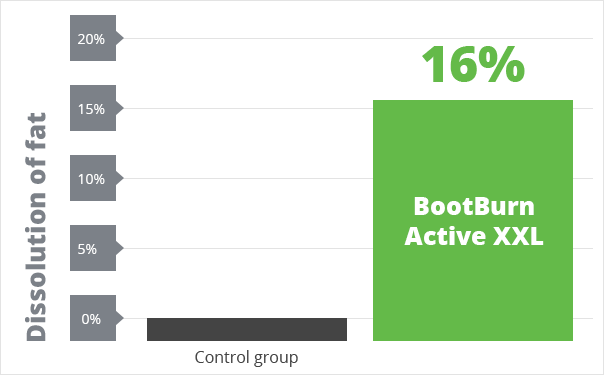 INGREDIENTS: bulking agent: corn dextrin, guarana seed extract with 10% caffeine, L-carnitine L-tartrate, papaya fruit powder with 6 USP units/mg proteolytic activity of papaine (contains max. 0,1% lactose), green tea leaf extract with 95% polyphenols and 0,5% caffeine, green mate leaf extract with 8% caffeine, natural mango flavor, B-complex premix [nicotinamide; maltodextrin; D-pantothenate, calcium; D-biotin; cyanocobalamin; pyridoxine hydrochloride; riboflavin; thiamine mononitrate; pteroylmonoglutamic acid], acidity regulator: citric acid, anti-caking agent: rice concentrate, sweetener: sucralose.
USE: The recommended daily intake is 1 sachet dissolved in a glass of water after meal/snack. For optimal results, take it 30-60 minutes before physical activity.
WARNINGS:
If you are hypersensitive or allergic to any of the ingredients of this product or use medication consult your doctor before use. This product is not recommended for breastfeeding women.
IMPORTANT
:
Recommended daily intake should not be exceeded. Dietary supplement should not be used as a substitute for a varied and balanced diet and a healthy lifestyle. A diverse and balanced diet and a healthy lifestyle are important.
STORAGE:
Keep out of reach of children! Store in a dark and dry place at a temperature below 25°C.