NightBurn XXL was designed as a night-time drink to help regulate body weight. It contains 10 active ingredients that play various important roles in losing weight in a healthy way:
1) GARCINIA CAMBOGIA EXTRACT WITH 60% HCA (hydroxycytric acid) prevents fat accumulation in the body, suppresses hunger and the urge for evening snacks.
2) BLACK ELDERBERRY EXTRACT prevents fat accumulation with its high content of special phytonutrients anthocyanin and vitamin C. Stabilises blood sugar levels and prevents hunger pangs.
3) CHOLINE is interconnected with vitamins of B-complex that are a necessary element in getting energy from the food we eat. It is indispensable for healthy liver function – liver has a key role in fat digestion.
4) PATENTED SOLUBLE FIBRE ORAFTI® HSI AND NUTRIOSE® FM 06 stimulates digestion and toxin elimination.
5) CALCIUM ensures digestive enzyme function.
6) MAGNESIUM relaxes the muscles and consequently the whole body.
7) CHAMOMILE EXTRACT improves sleep quality.
8) VITAMIN B6 Increases fat burning.
"I was no longer hungry when watching the telly at night"
"NighBurn XXL helped her beat the hidden enemy that only comes out when we least expect it - the evening hunger. "At the beginning, I was worried I'd be hungry, especially in the evening. While watching TV in the evening, I usually became hungry quite fast. But with NightBurn XXL it was totally opposite - I felt no hunger in the evening at all!"
- Tammy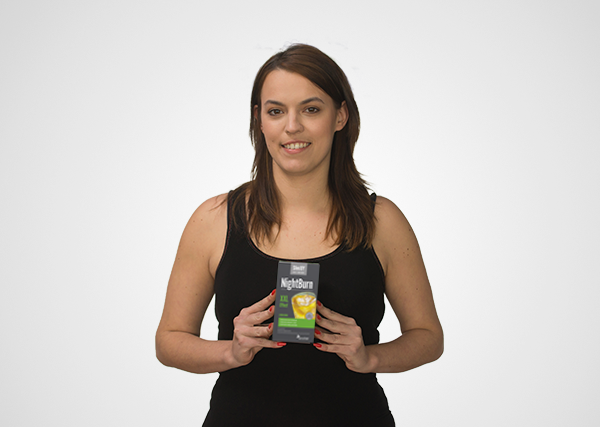 I've never felt better!
While low levels of energy are a common complaint of those trying to lose weight, people who choose SlimJOY have a completely different experience. "I've never felt better, I was feeling so light. I also felt more energetic, the opposite of how I used to feel.
During the day her energy levels were raised and fat was burned by BootBurn Active XXL. During the night, she was soothed and calmed by NightBurn - the only night-time fat burner on the market . Nelly loved another effect it has: No more evening hunger atacks!
-Nelly, a happy customer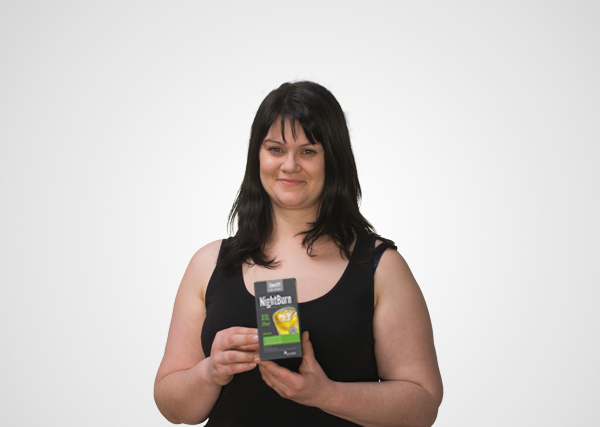 INGREDIENTS: chicory inulin with 86% soluble dietary fibers – 3000 mg; corn dextrin with 82-88% soluble dietary fibers – 2000 mg; calcium L-pidolate (calcium – 200 mg (25% NRV*)); tri-magnesium dicitrate, anhydrous (magnesium – 187,5 mg (50% NRV*)); garcinia cambogia extract with 60% hydroxycitric acid – 800 mg; choline bitartrate – 400 mg; elderberry fruit extract -280 mg (with 50% vitamin C – 140 mg (175% NRV*)); lemon balm leaf extract with 15% hydroxycinnamic acid and 7% rosmarinic acid – 200 mg; natural lime flavor; lemon fruit concentrate powder, chamomile flower extract – 100 mg; acidity regulator: citric acid; anti-caking agent: rice concentrate; sweetener: sucralose; vitamin B6 – 5,6 mg (400% NRV*)
*NRV = nutrient reference values
HOW TO USE: The recommended daily intake is 1 sachet dissolved in a glass of water before sleep.
WARNING: If you are hypersensitive or allergic to any of the ingredients of this product or use medication consult your doctor before use. This product is not recommended for pregnant and breastfeeding women.
IMPORTANT: The recommended daily intake should not be exceeded. The dietary supplement should not be used as a substitute for a varied and balanced diet and a healthy lifestyle. A diverse and balanced diet and a healthy lifestyle are important.
STORAGE:: Keep out of reach of children! Store in a dark and dry place at temperatures below 25°C.