We improved the old WaterOut to work with Double Power to accelerate results. Introducing the ALL NEW WaterOut XXL – the missing link in your weight loss transformation. Read on to find out more.
You could lose all the weight in the world and still not look slim. WHY? Water retention. Excess water in your body makes your face and your belly look bloated.
We have loads of water coursing through our system - did you know that even your body fat is 10% water? Your lymphatic system, which is in charge of lymph, often gets overloaded due to hormones, diet, stress... This results in water not being properly drained from tissues in your body.
You diet and you exercise, you do everything you're supposed to, yet your belly refuses to go. The extra weight which you may believe to be stubborn fat is, in fact, excess water! With your body tissues overflowing in excess water, taking WaterOut XXL is like installing a tap and letting it all out. What a relief!
WATEROUT XXL IS A STEP TOWARDS THE BODY OF YOUR DREAMS
Take advantage of this limited time offer and get the body you've always wanted.
With its clinically proven effects, thousands of satisfied customers, safe and effective ingredients, our money back guarantee AND this special price offer, the stars have aligned – it is time to begin your transformation. Don't let excess water drag you down! Test it for 10 days and we guarantee you'll be coming back for more.
Nina: Just in under two weeks, I saw amazing results!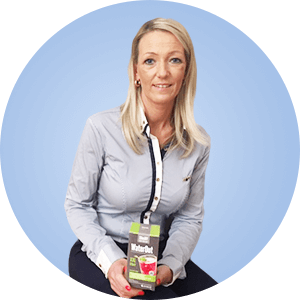 "Due to my work, my legs and my hands started to get swollen," she says, as she remembers the difficult days when she got up early in the morning to go to work. "I couldn't put on my favourite pants because I was so bloated that people thought I was pregnant! Today it makes me laugh, but I cried a lot back then," she recalls. "I came across WaterOut XXL Effect and, despite being sceptical at first, I decided to give it a try. I got rid of the excess water, lost a few pounds and that felt very freeing. Now, I can finally wear pants I bought 10 years ago, and it's given me a lot of my confidence back," Nina says, with a glint in her eye.
INGREDIENTS: prickly pear fruit powder with 0,05% betalains and 0,03% indicaxanthin – 2000 mg, bulking agent: corn dextrin, SensiDrain™ [sarsaparilla root extract, java tea leaf extract with 2% potassium, parsley leaf extract, artichoke leaf extract with 2-5% cynarin, milk thistle dried fruit extract, dandelion root extract with 3-5% chlorogenic acid and 12% inulin] – 2000 mg, raspberry fruit juice concentrate powder, natural raspberry flavour, acidity regulator: citric acid, red vine leaf extract with 30% total polyphenols (content of sulphites > 10 mg/kg) – 125 mg, anti-caking agent: rice concentrate, sweetener: sucralose.
USE: The recommended daily intake is 1 sachet dissolved in 1 litre of water and drunk throughout the morning.
WARNINGS:
If you are hypersensitive or allergic to any of the ingredients of this product or use medication consult your doctor before use. This product is not recommended for pregnant and breastfeeding women.
IMPORTANT
:
Recommended daily intake should not be exceeded. Dietary supplement should not be used as a substitute for a varied and balanced diet and a healthy lifestyle. A diverse and balanced diet and a healthy lifestyle are important.
STORAGE:
Keep out of reach of children! Store in a dark and dry place at a temperature below 25°C.